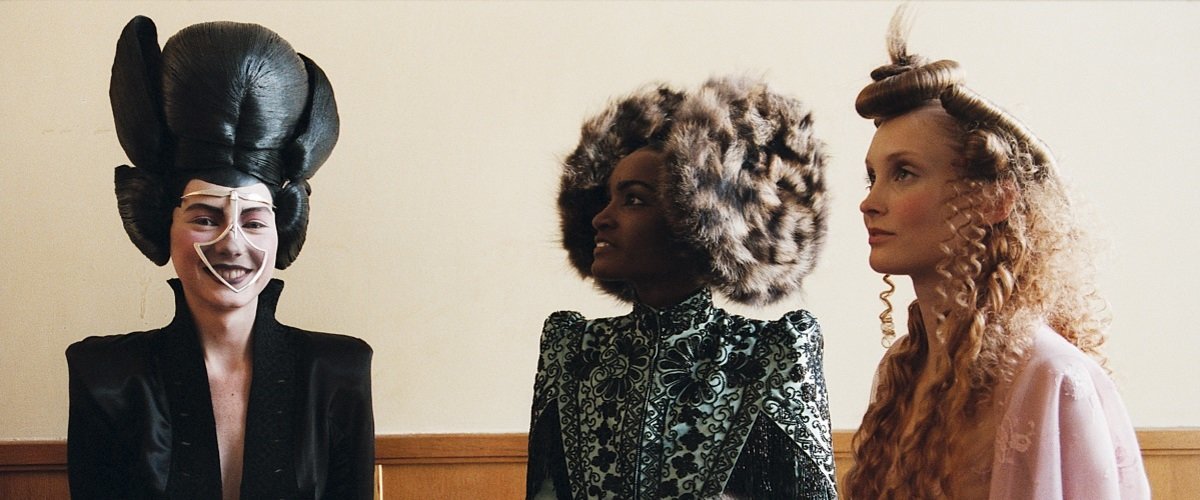 Your humble reviewer believes in full disclosure, so I must tell you I know nothing about fashion. Outside of what looks good on me, and what colors match, I am clueless. I know of very few fashion designers, and quite frankly, whenever I watch a fashion show, the only thought I usually have is "who the hell would wear that in public?" I said those exact words a lot during "McQueen,"—it's in my notes exactly eight times—but I'm sure the filmmakers wouldn't mind. Directors Ian Bonhôte and Peter Ettedgui seem content to let us make up our own minds about their subject's work. This documentary is as welcoming to intense fashionistas as it is to gauche fools like me.
If nothing else, "McQueen" is a staggeringly beautiful piece of filmmaking. Cinematographer Will Pugh fills the screen in all directions with the sometimes colorful and more often terrifying fashion creations of British designer Alexander McQueen. I can't think of a more fitting tribute to the artist than to have his visions impeccably framed and lovingly presented on a huge movie screen. Watching "McQueen" I wished it had been presented not only in IMAX but in 4DX, complete with a chair that shot water at me every time I wrote "who the hell would wear that in public?" in my notebook. I can't stress enough how jaw-droppingly beautiful this feature is.
Jaw-dropping can also describe McQueen's fashions. His shows were known to be can't-miss, theatrical hot-ticket events that used cameras and all sorts of media trickery to enhance and support the stories his fashions were to tell. Celebrities showed up in droves for his controversial and shocking events, including fellow designers like Tom Ford, whom we hear from briefly. McQueen also designed iconic outfits for singers David Bowie and Björk. Even after his death in 2010, McQueen's work still brought out the masses—an exhibition at the Metropolitan Museum of Art was sold out for its entire run.
McQueen went by his middle name professionally but used his first name, Lee, outside of work. "McQueen" covers all this information in a series of sections referred to as numbered tapes that highlight the worlds of Lee and Alexander. We see where they converge and how they remain separate. Much time is devoted to Isabella Blow, whose mentorship included McQueen's introduction to those in the fashion know in England and who first suggested that Alexander made a better, more respectable designer's name than Lee. (It didn't help at first; the British critics still thought he was rather obnoxious and uncouth.) Her relationship with McQueen is so well-defined that it's a tad devastating when we learn of their eventual falling out.
McQueen would personally fall out with many of his friends and lovers, but before the documentary struts down that inevitable runway wearing tattered fashions made of money and cocaine, "McQueen" presents Alexander in his young, hungry days. He tells us that he stunk at school because "I was always drawing clothes." Such interest eventually led him to an apprenticeship on Saville Row and the opportunity to present a few shows. Though the shows made money, McQueen's lifestyle was still so humble he had to employ less respectable tactics to get his clothing made. When he tells us he used the money he received on the dole to buy fabric for his designs, I couldn't help but admire his side hustle.
Of course, no government assistance was required once McQueen's career took him to residencies at Givency and later Gucci. Throughout his tenure, McQueen's intention was to leave his audience "repulsed or exhilarated." The film shows us several clips from his shows, including his most infamous one, 1995's "Highland Rape." It was here that I became temporarily disengaged from the film; as models paraded around in torn clothing that made it appear they had been sexually assaulted, I was beyond repulsed. I've often felt there was some casual misogyny present on the catwalk (which is probably why I never really got into these things), but this really seemed beyond exploitative and hateful. It's a testament to the filmmakers that they were able to pull me back into their orbit.
The other major complaint I have involves Michael Nyman's intrusive score. Now, I am a huge fan of "The Piano" score and some of Nyman's other compositions, but it was very jarring to hear music associated with Jane Campion's Palme D'Or winner plastered throughout this film. Nyman worked with McQueen on some of his shows, so his presence is easily explained, but I still found some of the music distracting.
Late in the film, McQueen tells us "if you want to know me, look at my work." By the time we hear this, we're familiar with the darker side of the designer and some of the agonies he endured, all of which influenced his art. We've also met and spent time with the many talking heads who, along with McQueen, provide running commentary and useful information. And when "McQueen" reaches its tragic end, we feel an understanding of and a kinship with Lee Alexander McQueen. This is a good, if conventional documentary. And just to remind you, it is drop-dead gorgeous to look at, so see it on the biggest screen you can endure.